• Airline Time Machine • Collectibles • Vintage Airline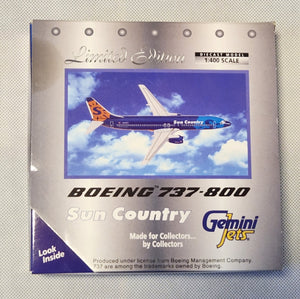 Not our typical product offering, but an unusual opportunity to own a hard-to-find Gemini Jets 1:400 737-800 model in Sun Country's 2000-era then-new colors! A small number of new in box, unopened, original interior packaging Sun Country 737-800 diecast models are being offered for sale. These models depict Sun Country's first 737-800, registered N800SY, and named "Primo", delivered to the airline in January 2001. The airline commissioned a single production run of just 2,500 of these models (under Gemini Jets Item Number GJSCX190), and they are tough to find after more than 20 years. What makes these highly unusual is that the...
---
• Airline Time Machine • Collectibles • Handmade • Mohawk Airlines • Vintage Airline
A recent order for Mohawk Airlines vintage-style swizzle sticks reminded me of the lasting power that a departed airline can have for those who worked there, flew the airline, or just admired it or were otherwise influenced by it. In the case of Mohawk, the airline left the skies 49 years ago when it was acquired by Allegheny Airlines, but orders keep coming for nostalgia items that recall the Mohawk story and influence on the airline's service area and the broader aviation industry. Mohawk was the first United States local service airline to end DC-3 use in the early 1960s,...
---
• Collectibles • Handmade • Ornaments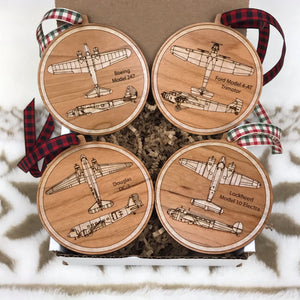 Now in the Airline Time Machine store, our first Collector's Edition ornament set! Featuring four pioneering airliners of the 1926-1936 period, this collector set has been laser engraved on solid cherry wood, and is presented in a gift box with individual aircraft history information cards. These four airliners, all from United States manufacturers, collectively represent the dramatic leap forward in aviation technology that became the bridge between the first generation of wood and fabric-covered airliners, to the next generation of aircraft innovation that occurred during World War II.  The boxed collection and history cards make this a gift to be treasured by pilots, vintage...