News — Airline Time Machine
• Airline Time Machine • Airliners International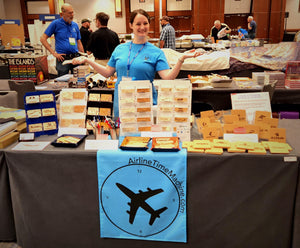 We had an excellent time at the Airliners International 2023 show held at DFW Airport at the end of June! Many thanks to the show organizers and volunteers of the World Airline Historical Society, hotel staff, our fellow sellers/vendors and the interesting, discerning, enthusiastic customers we met. A highlight of the show was the many stories we heard from customers about their personal connection to a particular airline or airliner. We also received valuable suggestions and advice from those we spoke with at our tabletop shop, to guide new product decisions and future show merchandising. Would we do it again?...
---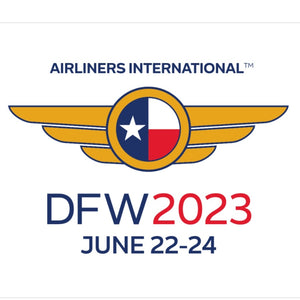 Our attendee reservation and trade show table bookings are made-n-paid, and Airline Time Machine will be attending the world's premier airline collector event: Airliners International being held in Dallas 22-24 June of 2023! Now the work begins to decide what items to bring to the trade show, as well as drawing up a shopping list for airline and aviation items to add to our collections - the goal will be to return home after the show with less luggage than we arrived with! Learn more about the show and its sponsor, The World Airline Historical Society, at www.wahsonline.com
---
• Airline Time Machine • Collectibles • Vintage Airline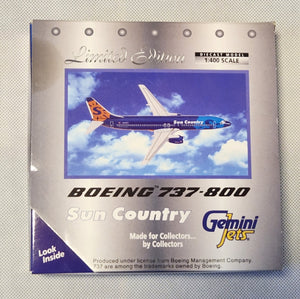 Not our typical product offering, but an unusual opportunity to own a hard-to-find Gemini Jets 1:400 737-800 model in Sun Country's 2000-era then-new colors! A small number of new in box, unopened, original interior packaging Sun Country 737-800 diecast models are being offered for sale. These models depict Sun Country's first 737-800, registered N800SY, and named "Primo", delivered to the airline in January 2001. The airline commissioned a single production run of just 2,500 of these models (under Gemini Jets Item Number GJSCX190), and they are tough to find after more than 20 years. What makes these highly unusual is that the...
---
• Airline Time Machine • Bar ware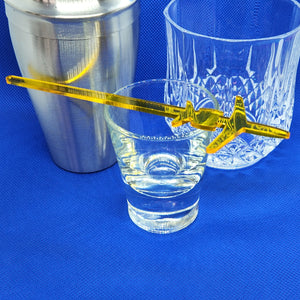 New at Airline Time Machine - Twinjet Swizzle Stick Sets in six colors! Capturing the classic shape of a T-tail twinjet, our acrylic swizzle sticks are an outstanding gift (for yourself or another cocktail aficionado!) for stirring a refreshing beverage, capturing a cherry or olive in your glass, or using as a sturdy skewer for loading up Bloody Mary additions. Available in sets of four, these acrylic swizzles are approximately 6 inches long, with a 1.8 inch wingspan for the decorative aircraft shape. Laser cut, dishwasher safe, designed and crafted in the United States, and available now!
---
• Airline Time Machine • Collectibles • Handmade • Mohawk Airlines • Vintage Airline
A recent order for Mohawk Airlines vintage-style swizzle sticks reminded me of the lasting power that a departed airline can have for those who worked there, flew the airline, or just admired it or were otherwise influenced by it. In the case of Mohawk, the airline left the skies 49 years ago when it was acquired by Allegheny Airlines, but orders keep coming for nostalgia items that recall the Mohawk story and influence on the airline's service area and the broader aviation industry. Mohawk was the first United States local service airline to end DC-3 use in the early 1960s,...