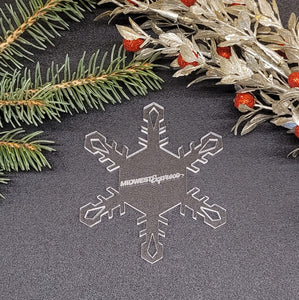 Airline Time Machine
Midwest Express Acrylic Snowflake Ornament
Regular price
$10.00
$0.00
Unit price
per
This ornament recalls Midwest Express Airlines of Milwaukee Wisconsin. The airline was formed in 1984 from the corporate flight department of consumer products company Kimberley Clark. Operating an initial fleet of McDonnell Douglas DC-9-10 airliners in an all first class configuration, Midwest Express developed a connecting hub at Milwaukee, gradually expanding to markets across the U.S.
Financial difficulties in the mid-2000s saw the airline become a takeover target, and a bid by AirTran Airways was eclipsed by a competing offer from Republic Airways, with some financing profited by Northwest Airlines. In 2010, Midwest was folded into Frontier Airlines of Denver.
An artistic interpretation of the airline's brand is laser-engraved with exacting detail onto a cut acrylic snowflake crystal ornament, measuring approximately 3.4 inches (8.6 cm) between opposite points, with a material thickness of 1/8 inch. For best display clarity, the design is engraved as a reversed mirror image on one side of the ornament, so that it can be viewed with proper alignment on the opposite side.

As a gift, or as a treat for yourself, these are a perfect way to add your favorite airlines of the past to your today! Use them to decorate for the holidays, or to brighten up your desk, office, or special area of your home or work space all year long.

---