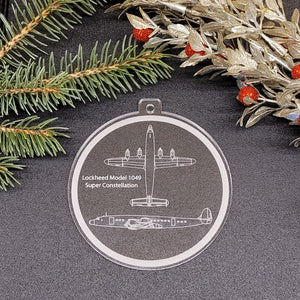 Airline Time Machine
Lockheed Model 1049 Super Constellation Round Acrylic Ornament
Regular price
$12.00
$0.00
Unit price
per
Developed in response to a 1939 requirement issued by TWA, the Lockheed Constellation was distinctive for its speed, pressurized cabin, and triple-tail design, intended to ensure the plane fit into existing airport hangars. Production began in 1943, with all output taken over by the United States military (as the C-69 transport).
Following World War II, the type and its many developments provided fierce competition for the Douglas 4-engine airliners, and the final Constellation model, the L-1649 Starliner, was displaced on the world's long-haul routes only by the Boeing 707 and Douglas DC-8. A total of 850+ were built between 1943 and 1958.
An artistic interpretation of the aircraft's side and top views is laser-engraved with exacting detail onto a round acrylic crystal ornament, measuring approximately 3.4 inches in diameter, with a material thickness of 1/8 inch. For best display clarity, the design is engraved as a reversed mirror image on one side of the ornament, so that it can be viewed with proper alignment on the opposite side.

As a gift, or as a treat for yourself, these are a perfect way to add your favorite airplanes of the past to your today! Use them to decorate for the holidays, or to brighten up your desk, office, or special area of your home or work space all year long.

---