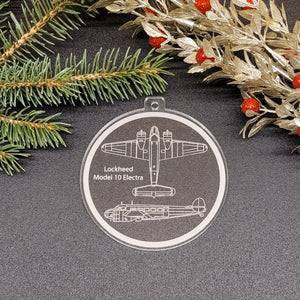 Airline Time Machine
Lockheed Model 10 Electra Round Acrylic Ornament
Regular price
$12.00
$0.00
Unit price
per
First flown in February 1934, The Model 10 Electra was Lockheed's entry into the airline and executive transport markets, designed for 8-10 passengers, and building on the success of the earlier Vega and Orion single-engine models.
Powered by two Pratt & Whitney Wasp radial engines, producing between 450 and 600 horsepower each, the Electra's speed and durability brought orders from numerous airlines in The Americas, Europe, and the Pacific, who were able to acquire the type more than two years before the larger Douglas DC-3 entered service. 148 were built, including the aircraft in which Amelia Earhart and Fred Noonan were lost during 1937.
An artistic interpretation of the aircraft's side and top views is laser-engraved with exacting detail onto a round acrylic crystal ornament, measuring approximately 3.4 inches in diameter, with a material thickness of 1/8 inch. For best display clarity, the design is engraved as a reversed mirror image on one side of the ornament, so that it can be viewed with proper alignment on the opposite side.

As a gift, or as a treat for yourself, these are a perfect way to add your favorite airplanes of the past to your today! Use them to decorate for the holidays, or to brighten up your desk, office, or special area of your home or work space all year long.

---