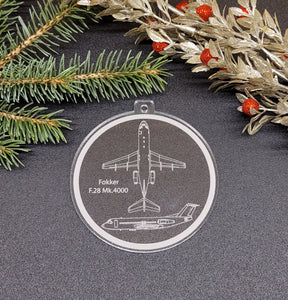 Airline Time Machine
Fokker F.28 Fellowship Mk.4000 Round Acrylic Ornament
Regular price
$12.00
$0.00
Unit price
per
Entering service several years after the similar Caravelle, BAC 1-11, and DC-9, the F.28 Fellowship was designed with existing F.27 customers in mind - many serving small airports, with restricted runways, and modest passenger facilities. The type emerged as smaller than competitors, with short field performance, rugged undercarriage, and self-contained loading equipment suited to even grass or gravel runways.

Selling slowly over many years, the F.28 order book was made of mostly small sales, rather than large fleet sales of 20 or more units for a single airline. the initial Mk.1000 version stead 65 passengers, while the larger Mk.4000 seated 85. A surge of interest in the F.28 in the early 1980s saw several airlines in North America acquire the type, where it was seen as both a good entry-level jet for small airlines, and a good fleet fit for large airlines needing less capacity than that of a DC-9-30 or 737-200.

An artistic interpretation of the aircraft's side and top views is laser-engraved with exacting detail onto a round acrylic crystal ornament, measuring approximately 3.4 inches in diameter, with a material thickness of 1/8 inch. For best display clarity, the design is engraved as a reversed mirror image on one side of the ornament, so that it can be viewed with proper alignment on the opposite side.

As a gift, or as a treat for yourself, these are a perfect way to add your favorite airplanes of the past to your today! Use them to decorate for the holidays, or to brighten up your desk, office, or special area of your home or work space all year long.

---