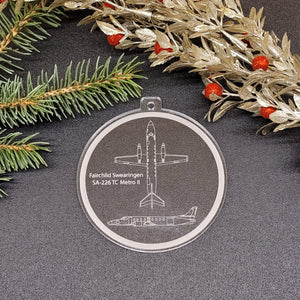 Airline Time Machine
Fairchild Swearingen Metro II Round Acrylic Ornament
Regular price
$12.00
$0.00
Unit price
per
Developed by the Swearingen company from its earlier Excalibur design (itself a recipient of many Beech Queen Air and Bonanza components), the Metro was targeted at the U.S. regional airline market, in which any aircraft with fewer than 20 passenger seats didn't require a flight attendant.
First flight of this fast, pressurized turboprop was made in 1969, but financial difficulties led to acquisition of the company by the much larger Fairchild. Successive improvements introduced the Metro II of 1974 and the Metro 3 of 1980, along with executive versions branded as Merlins. Slightly more than 600 were built prior to production ending in 2001.
An artistic interpretation of the aircraft's side and top views is laser-engraved with exacting detail onto a round acrylic crystal ornament, measuring approximately 3.4 inches in diameter, with a material thickness of 1/8 inch. For best display clarity, the design is engraved as a reversed mirror image on one side of the ornament, so that it can be viewed with proper alignment on the opposite side.

As a gift, or as a treat for yourself, these are a perfect way to add your favorite airplanes of the past to your today! Use them to decorate for the holidays, or to brighten up your desk, office, or special area of your home or work space all year long.

---