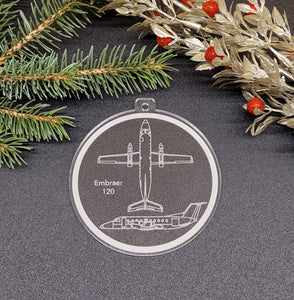 Airline Time Machine
Embraer EMB-120 Round Acrylic Ornament
Regular price
$12.00
$0.00
Unit price
per
Based on experience developed with the 18-seat EMB-110 Bandeirante, Brazilian manufacturer Embraer began development in the early 1980s of a new regional airliner, with a passenger capacity of 30. Branded the EMB-120 Brasilia, the aircraft entered airline service in 1985.

The 120's high cruise speed made it popular with regional airlines flying long, thin routes under codeshare services for larger airlines, and a total of 354 were built during a production run that ended in 2001. The type's fuselage became the foundation for the later EMB-145 family of regional jets and executive aircraft.
An artistic interpretation of the aircraft's side and top views is laser-engraved with exacting detail onto a round acrylic crystal ornament, measuring approximately 3.4 inches in diameter, with a material thickness of 1/8 inch. For best display clarity, the design is engraved as a reversed mirror image on one side of the ornament, so that it can be viewed with proper alignment on the opposite side.

As a gift, or as a treat for yourself, these are a perfect way to add your favorite airplanes of the past to your today! Use them to decorate for the holidays, or to brighten up your desk, office, or special area of your home or work space all year long.

---