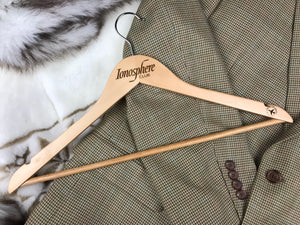 Airline Time Machine
Eastern's Ionosphere Club Solid Wood Hanger Set
Regular price
$18.00
$0.00
Unit price
per
Eastern Airlines was founded in 1926 as one of the earliest U.S. airlines, and became a dominant force in air travel in the Americas until the airline's closure in 1991. With a large hub operation at Atlanta, Eastern was a leading carrier between large markets in the northeast U.S. and holiday destinations in Florida and the Caribbean. Sour labor relations, competition in a newly-deregulated marketplace, and a poor service perception by many travelers combined to negatively impact Eastern's finances, and the airline was acquired by holding company Texas Air Corp. in 1985.
Easterns's Ionosphere Club private airport lounges traced their history back to the airline's first class passenger Falcon Lounges of the 1950s-60s. The airline offered 30 Ionosphere member-only clubs in 28 airports by 1985, located across the Americas.
The Ionosphere Clubs are recalled through this new product, an artistic interpretation of the lounge branding, laser-engraved on both sides of a solid wood coat hanger with metal hanging hook.
Each hanger measures approximately 17.5 inches across, and 6 inches from the base of the hook to the bottom of the hanger bar, with a thickness at the top of the hanger of approximately .45 inches.
The laser engraving results in a beautiful caramel-colored image that contrasts clearly against the light wood of the hanger. A low-gloss polyurethane coating is applied to the wood surfaces after the engraving process is complete, to both seal the design and enhance the durability of the wood. These hangers are sold as sets of either two hangers or four hangers.
Bring some of that vintage Eastern style into your life, or gift them to a former EAL employee or passenger - while the Ionosphere Clubs may not have had engraved hangers as stylish as these, they're a great way to recall this famous airline!
---