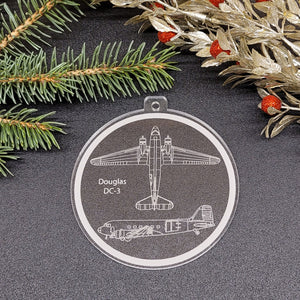 Airline Time Machine
Douglas DC-3 Round Acrylic Ornament
Regular price
$12.00
$0.00
Unit price
per
Inspired by a request from American Airlines for a larger, faster version of the DC-2, Douglas flew the first DC-3 in late 1935. With a wider and longer fuselage than its predecessor, the DC-3 seated 21 passengers, and entered scheduled service with American during April 1936.
The type was a significant advance over competing designs, and Douglas had built slightly more than 500 by the end of 1941, when the entry of the United States into World War II forced production to be re-directed to the C-47/Dakota military version of the aircraft. 10,655 DC-3/C-47 were completed by the time production ended in 1946, in addition to another 2,700 built in Russia as the Lisunov Li-2.
An artistic interpretation of the aircraft's side and top views is laser-engraved with exacting detail onto a round acrylic crystal ornament, measuring approximately 3.4 inches in diameter, with a material thickness of 1/8 inch. For best display clarity, the design is engraved as a reversed mirror image on one side of the ornament, so that it can be viewed with proper alignment on the opposite side.
As a gift, or as a treat for yourself, these are a perfect way to add your favorite airplanes of the past to your today! Use them to decorate for the holidays, or to brighten up your desk, office, or special area of your home or work space all year long.

---