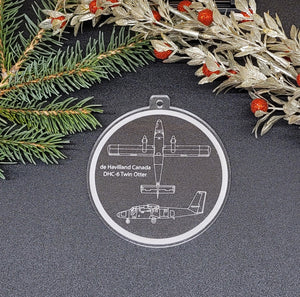 Airline Time Machine
de Havilland Canada DHC-6 Twin Otter Round Acrylic Ornament
Regular price
$12.00
$0.00
Unit price
per
First flown in 1965 as a development of the company's single-engined DHC-3 Otter, de Havilland focused the design around two Prat & Whitney PT-6 turboprops, and enhanced the DHC-3 short field capabilities, but with a lengthened fuselage seating typically 18-19 passengers.

Though neither streamlined nor fast, the unpressurized Twin Otter was popular with commuter airlines over short feeder routes, and bush operators needing good payload capability from small or rough landing strips. More than 840 were built between 1965 and 1988, and the type was seen on every continent in civilian, government, and military service.

An artistic interpretation of the aircraft's side and top views is laser-engraved with exacting detail onto a round acrylic crystal ornament, measuring approximately 3.4 inches in diameter, with a material thickness of 1/8 inch. For best display clarity, the design is engraved as a reversed mirror image on one side of the ornament, so that it can be viewed with proper alignment on the opposite side.

As a gift, or as a treat for yourself, these are a perfect way to add your favorite airplanes of the past to your today! Use them to decorate for the holidays, or to brighten up your desk, office, or special area of your home or work space all year long.

---