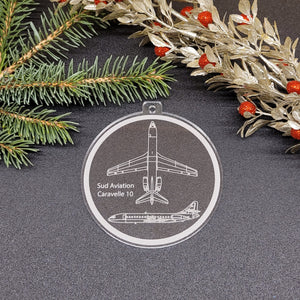 Airline Time Machine
Aerospatiale Caravelle 10 Round Acrylic Ornament
Regular price
$12.00
$0.00
Unit price
per
The first turbojet airliner designed for short to medium-length routes, the Caravelle resulted from a design competition sponsored by the French government. Manufacturer Sud-Est was the contest winner, and first flight of the Model 210 "Caravelle" took place in 1955.
The Caravelle unusually incorporated the complete flight deck/nose section of the British De Havilland Comet, Sud-Est opting to license those components to speed entry to market by using proven sub-assemblies. With two Rolls Royce Avon turbojets powering the initial 60-passenger Mark 1 version, the Caravelle entered scheduled passenger service in May 1959. A total of 282 were built through 1972, and significant airline operators included Air France, SAS, United, Air Afrique, Alitalia, Finnair, and Varig.

An artistic interpretation of the aircraft's side and top views is laser-engraved with exacting detail onto a round acrylic crystal ornament, measuring approximately 3.4 inches in diameter, with a material thickness of 1/8 inch. For best display clarity, the design is engraved as a reversed mirror image on one side of the ornament, so that it can be viewed with proper alignment on the opposite side.

As a gift, or as a treat for yourself, these are a perfect way to add your favorite airplanes of the past to your today! Use them to decorate for the holidays, or to brighten up your desk, office, or special area of your home or work space all year long.

---