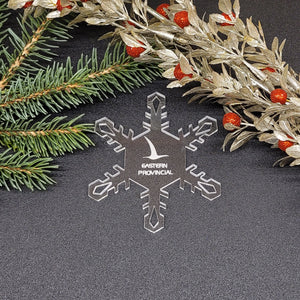 Airline Time Machine
Eastern Provincial Acrylic Snowflake Ornament
Regular price
$10.00
$0.00
Unit price
per
This ornament recalls Eastern Provincial Airways, from 1949 an important connection for many small, remote communities in the Atlantic provinces of Canada. An initial focus on bush and air ambulance flying evolved into an emphasis on scheduled services with a DC-3, Curtiss C-46, and Lockheed 10 fleet, linking regional centers together, with onward connections to Montreal.
New Handley Page Herald turboprops joined the fleet in 1962, followed by the 737-200 from 1972. A strategic marketing and codeshare relationship started in the early 1980s with CP Air gave both airlines new business exchanged at Montreal and Toronto, and CP Air purchased Eastern Provincial outright in 1986.
An artistic interpretation of the airline's brand is laser-engraved with exacting detail onto a cut acrylic snowflake crystal ornament, measuring approximately 3.4 inches (8.6 cm) between opposite points, with a material thickness of 1/8 inch. For best display clarity, the design is engraved as a reversed mirror image on one side of the ornament, so that it can be viewed with proper alignment on the opposite side.

As a gift, or as a treat for yourself, these are a perfect way to add your favorite airlines of the past to your today! Use them to decorate for the holidays, or to brighten up your desk, office, or special area of your home or work space all year long.

---