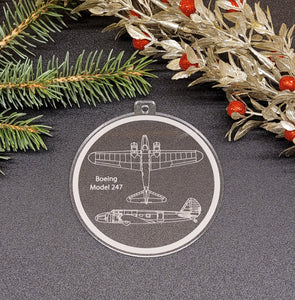 Airline Time Machine
Boeing 247 Round Acrylic Ornament
Regular price
$12.00
$0.00
Unit price
per
Revolutionary when it entered service in 1933, the Boeing 247 incorporated many airliner design "firsts": the first airliner with streamlined design and enclosed engine cowlings, first with wing and tail deicing, first with retractable landing gear, an autopilot, and trim tabs. 
Notable also as the first twin-engined aircraft able to take off on only one engine, the 247 had good handling characteristics and a low landing speed, and quickly developed a reputation as a rugged and safe airliner.

Seating 10 passengers, 75 247s were built, the advances it introduced quickly becoming standards adopted by Douglas, Lockheed, and others into larger, faster competing models.

An artistic interpretation of the aircraft's side and top views is laser-engraved with exacting detail onto a round acrylic crystal ornament, measuring approximately 3.4 inches in diameter, with a material thickness of 1/8 inch. For best display clarity, the design is engraved as a reversed mirror image on one side of the ornament, so that it can be viewed with proper alignment on the opposite side.

As a gift, or as a treat for yourself, these are a perfect way to add your favorite airplanes of the past to your today! Use them to decorate for the holidays, or to brighten up your desk, office, or special area of your home or work space all year long.

---